Noontec Hammo TV Wireless Headphones Review
Jun 26, 2017 | Mark Torrent
Original text link: http://www.headphoneslab.com/noontec-hammo-tv-wireless-headphones-review/
VERDICT
If your TV is the main source of entertainment for you, make yourself a favor and buy the Noontec Hammo TV headphones. After a few days of enjoying all your favorite TV shows, movies, and video games with fantastic sound quality and without being reminded every few minutes to lower the volume by your spouse or roommates, you won't be able to imagine using the built-in speakers ever again.
Design and Build
The Noontec Hammo TV headphones are almost all black, with the only exception being the red and silver logo on the side of both earcups. Thankfully, the black finish is matte and doesn't attract fingerprints. The headphones can be folded thanks to two metal hinges. The quality of the folding mechanism is excellent, and the same can be said about the rest of the headphones.
Fantastic long-term listening comfort is provided by thick pleather earpads and a soft headband filled with memory foam. The headband creates just enough pressure to keep the headphones in place without causing any discomfort or pain even after several hours of uninterrupted listening. Unlike real leather, the pleather fabric used by Noontec is breathable, lightweight, yet durable enough to withstand rough handling.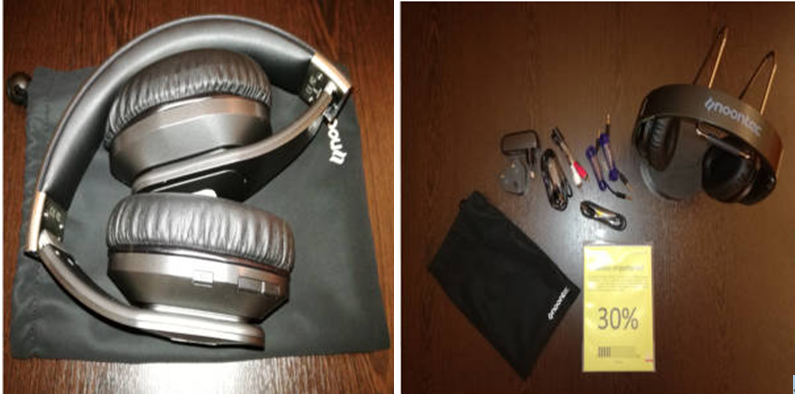 Sound Quality
We've already explained that the wireless audio transmission method of the Noontec Hammo TV headphones doesn't limit the sound quality in any way. But how do the headphones sound? In just one word: AMAZING.
We believe that TV headphones should emulate the home theater listening experience created by large surround sound speakers and a powerful subwoofer. Accuracy isn't nearly as important as immersion and fun. Even though the Noontec Hammo TV headphones aren't advertised as surround sound headphones, we could hear sounds coming from all directions, which made movies and games immensely entertaining.
It's also impressive how the headphones can go from playing crystal-clear highs to the lowest sub-bass frequencies without any noticeable distortion. And even when the action or music got really intense, mids always confidently stood out, preventing vocals for drowning in the whirlpool of other sounds.
The thick earpads minimize sound leakage and, at the same time, don't let outside noise interfere with your listening. You could be watching the most dramatic battle at a high volume, and somebody sitting next to your wouldn't have any problem reading a book.